Dine Out Nights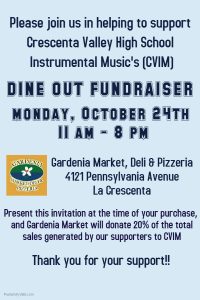 ~~~~~~~~~~~~~~~~~~~~~~~~~~~~~~~~~~~~~~~~~~~~~~~~~~~~~~ 
Pops Concert Ads
~~~~~~~~~~~~~~~~~~~~~~~~~~~~~~~~~~~~~~~~~~~~~~~~~~~~~~
Throughout the year, we have opportunities to help support the Instrumental Music Program at CV.  Two ongoing methods are non-invasive and provide much needed steady income to the program.  Please sign up for Ralphs Rewards Community Contribution Program, Amazon Smile and Benefit.
 – – – – – – – – – – – – – – – –

Ralphs Scrip
Log on to RALPHS.com 
Click on "Community"
Click on "Community Contribution Programs"
Click on "Enroll Now"
New instructions will appear. Follow the steps to sign-up or renew.
(NOTE: The directions are a little vague, but hang in there. It'll work!)
Enter organization: Crescenta Valley Instrumental Music Fund or 83777
Even if you've registered CVIM as your organization in the past…
Ralphs requires you to RE-register. So please do so!
(FWIW, shopping regularly at Ralphs results in about $25/quarter to CVIM)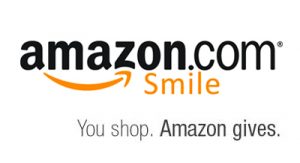 Select Crescenta Valley Instrumental Music (CVIM) foundation as your charity
If you have a different AmazonSmile charity already, here's how to change it to CVIM:
— b. Go to "Your Account"
— c. Select "Change Your Charity"
Now, just bookmark AmazonSmile instead of Amazon and we make free money!
– – – – – – – – – – – – – –
There are MANY stores where you can instantly purchase and redeem gift cards through Benefit: Vons, Amazon, American Airlines, Target, Walmart, Best Buy, Burger King, and California Pizza Kitchen to name just a few.  The percentage donated is always greater if you pay for the gift card from your checking account but generally something is donated even if you pay with your credit card.  Vons donates only if you purchase the gift card by paying with your checking account. Vons prefers that you print out your gift card at home and take it to the store  to keep their check-out lines moving.
02.  Click on Consumers
03.  Download the App
04.  Select Beneficiaries from the menu
05.  Select Schools
06.  Select Crescenta Valley Falcon Music
07.  Click Payment Method from the menu
08.  Click the + in the top right corner
09.  Select Credit Card and then Checking Account and follow the prompts
10.  Pre-purchase gift cards from retailers where you know you will shop, or…
       Buy gift cards in the store during check-out when you know what your total will be
NOTE: There is a $200 limit on your first purchase. Once it clears the limit is removed