Calendar for the Week:
Guard Practice:
Tuesday and Thursday – 3:30 – 7:00pm
General –
Monday  15 –
Tuesday 16 – Drum / Guard Clinic 3:30 – 6:30pm – At Rosemont
Wednesday 17 –
Thursday -18 Guard Clinic 3:30 – 6:30pm
Friday – 19
Symphony Ensemble Concert!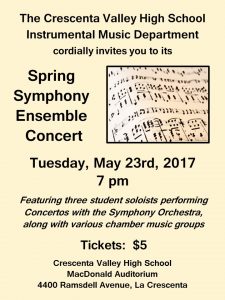 CVIM End of the Year Banquet
CVIM EOY Banquet Invitation 2017 – Ticket Order Form

Our End of Year Banquet will be held on Friday, May 26th, beginning at 6 pm at Pickwick Gardens, 1001 West Riverside Drive, Burbank, 91506. Tickets are $40 per person if your RSVP and payment is received in the Music Office by Wednesday, May 3rd. After that, tickets are $45, and will only be available until Wednesday, May 10th.
Tickets MUST be purchased in advance, as there will not be ticket sales at the door on the day of the event. Everyone is welcome – students and parents – so please join us as we look back and celebrate another successful year of Music for CVIM. Students, seniors and other individuals who have made an impact with the Instrumental Music Program will be recognized at our annual event.
CVIM Scholarship – seniors
membership.
 Band Camp 2017-2018
July 31-August 11